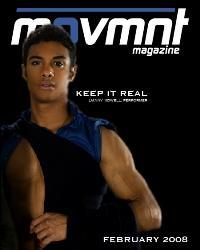 Last season's top three players on So You Think You Can Dance -
Sabra Johnson
, Danny Tidwell and Neil Haskell - will be gracing the covers of
Movmnt Magazine
when the quarterly publication releases its winter issues in 2008.
The urban-leaning lifestyle magazine was co-founded by Tidwell and David Benaym.
It will be focusing on the three performers as part of their new project called "Keep It Real," which is a non-profit effort to bring the world of art and pop culture together as a lifestyle by informing and educating people.
Haskell earned the title of "Male Dancer of the Year" at the American Dance Awards in 2005.
Tidwell co-created a live show with a combination of fashion and photography called Moving Still, prior to joining So You Think You Can Dance. This eventually led to the formation of Movmnt Magazine in 2006.
Similar to Tidwell, is known for her contemporary dance moves. With a background in gymnastics, jazz and ballet, she emerged as winner of So You Think You Can Dance last year.
Matt Richenthal is the Editor in Chief of TV Fanatic. Follow him on Twitter and on Google+.