In honor of Angle and Jesee (Debbi Morgan and Darnell Williams) returning to All My Children, Entertainment Weekly has listed its top soap opera couples of all-time.
Here's a look at two. Review the others now:
BO AND HOPE (Peter Reckell and Kristian Alfonso): Days of Our Lives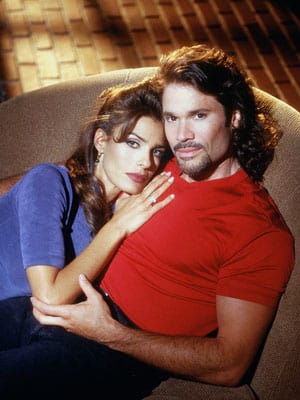 LOVE'S FIRST BLUSH Salem's foremost couple met when Hope was just a teenager babysitting for Bo's family. After a few years of adventures and intrigue, they got hitched in a lavish English wedding. (But that wouldn't be their last trip to the altar...)
HAPPILY EVER AFTER? Hope has since returned from the dead, dispatched Bo's new fiancée, overcome amnesia, and coped with brainwashing that had her thinking she was a long-dead princess. And after a grueling separation a few years back (Hope wrongly thought Bo had helped their toddler son's killer cover up the crime — hey, it happens), they found their way back together and gave birth to a new baby girl.
LUKE AND NOAH (Van Hansis and Jake Silbermann): As the World Turns
LOVE'S FIRST BLUSH Luke thought for sure that he'd fallen for a straight guy when he found himself drawn to Noah. But one pretend kiss (followed by much agonizing and one really spectacular kiss) made Noah come to terms with the fact that he was also gay. Then all they had to do was keep Noah's dad from killing Luke.
HAPPILY EVER AFTER? After surviving two murder attempts, the guys went on a New Year's Eve date, and soon Noah moved in with Luke and his family.
Matt Richenthal is the Editor in Chief of TV Fanatic. Follow him on Twitter and on Google+.