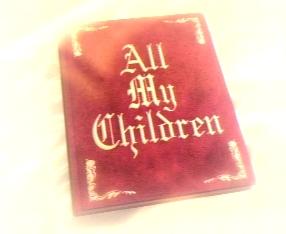 All My Children writer Michelle Patrick recently spoke to
The Los Angeles Times
about the ongoing writers' strike. The focus of the interview?
Patrick's anger at producers and scab writers that cross the picket lines. (Unlike primetime shows, soap operas did not immediately run out of material once the strike began; most spent a year stockpiling scripts in anticipation of the scribes' walkout.)
According to Patrick, All My Children will carry on "because they've got people scabbing in there.  We don't know who.  They shield their identity to protect them from repercussions from the guild.  They work through e-mail, with false names."
Patrick said that on the first day of the impasse, a producer of another soap from a different network called her to ask whether she'd be interested to work as a scab.
"What she said is, 'We could protect your identity.  No one would ever know.  It would be completely secret.  No one would ever find out,' " Patrick recalled as she picketed in front of ABC's W. 66th Street studio, where All My Children is taped.
The inquiry simply infuriated Patrick, who declined the offer.
"The more heinous the producers behave, the angrier I get," the All My Children writer told The Los Angeles Times.
Matt Richenthal is the Editor in Chief of TV Fanatic. Follow him on Twitter and on Google+.