Monique Coleman stars in High School Musical, but she also made an appearance on season three of Dancing with the Stars. Her partner at the time, Louis van Amstel, is pictured with her below.
The actress has blogged about her account of the current Dancing with the Stars tour. Here is an excerpt from it, courtesy of People magazine:
It's been fun to meet new people, reconnect with the dancers, and have some time to myself on the road. I was on tour with High School Musical last year and that was fun â€" but a lot more hectic. For starters, I shared a bus with Ashley Tisdale. This time, I've got my own tour bus and so after each show I come back and just chill. It's heavenly!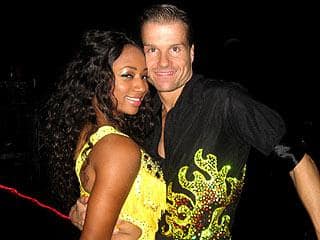 My friend Autumn has been traveling with me and we're having a ball. The past couple of nights we've been catching up on our [TV] viewing. I was traveling a lot last year for HSM so I missed some of my favorite TV shows.
I'm catching up with season three of Grey's Anatomy and bawling my eyes out. Literally I cried my eyes out for hours â€" O'Malley's dad died and I lost my mind!
I'm friends with Sabrina Bryan and we're having a great time spending time together and catching up. The other night after the Cleveland show we had a little party in her bus. We played Nintendo Wii and hung out and had a blast.
I got to meet Wayne Newton and he is such a great guy. What a legend! That was an honor for sure.
Matt Richenthal is the Editor in Chief of TV Fanatic. Follow him on Twitter and on Google+.