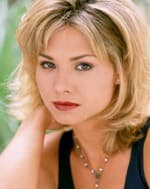 A couple weeks ago, we posted part one of an interview
Sarah Brown
gave to
TV Guide
. In it, the actress spoke enthusiastically about her return to
General Hospital
.
Now, take a look at highlights from part two of the conversation:
TVGuide.com: Of course, Laura Wright is now playing Carly, so you are creating a new role....
Sarah Brown: I'm going to be playing Claudia Zacchara. She is the eldest daughter of Anthony Zacchara.
TVGuide.com: Is Claudia totally a tough cookie or does she have a soft spot somewhere?
Brown: Oh, she has a soft spot, because she's being played by me. [Laughs] I can't fathom playing a one-dimensional tough cookie on a daytime show. I don't think that works, whereas it might in other mediums, like prime time. So let me tell you about Claudia....
TVGuide.com: Is she a sexual woman?
Brown: Very. She's a very, very sexual woman. That's what I'm gathering. There are some really wonderful reasons for that. Like any tough cookie she's tough because she's really fragile, and she's really fragile because she has an Achille's heel. She has a couple of them, and they will develop over this first year. But one in particular she comes to town with, and it's a really good one.
TVGuide.com: What's the dynamic between Claudia and Johnny (Brandon Barash)?
Brown: It's going to be complicated. Johnny was little, apparently, when I left, so Brandon is playing pretty young, I guess. Johnny was young when I was banished and sent away to live with my mother, who had been banished earlier. But I grew up with my father until I was 16 and Johnny was about 8. I was very protective and loving of my "baby brother," so it's parallel to Into the Wild, though there's a little more scab-picking to be done between the two of us.
The brother and sister in that movie are close because they're growing up in a loony bin of a household. There was yelling going on [at the Zaccharas'], a manic-depressive bipolar father.... I haven't spoken to him since I was banished.
Read the full interview with Brown now.
Matt Richenthal is the Editor in Chief of TV Fanatic. Follow him on Twitter and on Google+.