With Laura Wright now embedded in the role created by Sarah Brown, the actress resurfaces on General Hospital on January 31.
The new vixen to be portrayed by brown? Claudia Zacchara, the prodigal daughter of mob boss Anthony. Below, the star speaks on this come back with TV Guide: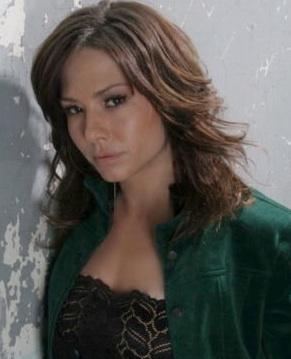 TVGuide.com
: When did the talks to return to General Hospital first start up?
Sarah Brown
: Oh, I want to say about five months ago. It was a really interesting happenstance.
TVGuide.com: Was it a call from [ABC Daytime president Brian] Frons or...?
Brown: No, it was nothing like that. First, I haven't seen Maurice Benard or anybody from the show — except for Tava [Smiley, ex-Chloe] and Stephen Kay (Reginald) here and there — in six or seven years. Then suddenly, out of nowhere, I'm at the car wash and Maurice, who lives in my neighborhood, is there. "What's up, Mo?" [Laughs] Meanwhile, I'm running into Kin Shriner (Scotty) every other day at my gym.
So Maurice and I chatted for a bit, and then three days later I run into [GH executive producer] Jill Farren Phelps, of all people, at the local café. I'm like, "This is weird. General Hospital is everywhere." So I felt like that was a really good time, for a lot of different reasons, to approach Jill and give her a big hug. It built from there.
TVGuide.com: Did you have any reservations about returning to the show? Concerns about "Who's going to have my character's back?"
Brown: A lot of "Who's going to have my back?" went through my mind. It took us five months to really work out all the details. It's been so many years, but right away they let me know, it wasn't ever going to be about me playing Carly, and that's always been interesting to me. They talked to me about that years ago, about a month before I did As the Worlds Turns, like:
"[You can be] Carly's evil twin sister!" Because I had really dark hair at that point. We kicked it around, always in good fun, but it was never really something that we got into in terms of negotiations. I'm funny the way about the way that I work with soaps — I like to figure out creatively what we're going to do, and if it makes sense, I have no issues with the boundaries between daytime and prime time. I see other actors do it. Tamara Tunie does As the World Turns and Law & Order: SVU really successfully, and why not?
You should be able to navigate both worlds. So I don't have any reservations about daytime per se. They pitched the hell out of the character and I responded to it right away. "That sounds like fun, sign me up!" [Laughs ]
TVGuide.com:
Now I have a Barbara Walters question: "How is the
Sarah Brown
returning to GH different than the one who left?"
Brown
: Oh, I'm so different. I'm older! That's really what it's about. When I was first at General Hospital, I felt like I grew up there, like it was a college for me, whereas VR Troopers was "community college." I spent those years learning to navigate the business, and then I got to go out into the world and have all these wonderful experiences with other actors and directors....
At the time I left GH I was really wide-eyed and full of wonder at the possibilities of the gift I was given to play with. I've had six or seven years to play with it now, so I am coming back with a lot of joy. I left with a lot of joy, but I also left with a lot of fear as to what the future will hold. It was scary, but in an exciting way. Now I feel I can share a lot of my experiences, and that brings up the game level for everyone. Anyone who goes out and searches other techniques and styles and ideas and explores their creativity at the risk of failure comes back richer.
Matt Richenthal is the Editor in Chief of TV Fanatic. Follow him on Twitter and on Google+.