No red carpet. No fawning hosts. No celebrities. No gowns. No hairdos. No fashion faux pas. What kind of awards show is this?
"The 34th Annual People's Choice Awards" arrives at 9 p.m. tonight on CBS crippled by the writers' strike, now in its ninth week.
While the Critics' Choice Awards were staged free of picketing writers, the Golden Globes and People's Choice Awards have had to make adjustments because the celebrities are reluctant to cross picket lines.
Both awards presentations are thus switching to a newsier approach. The People's Choice scrapped its usual live show early on and promises a star-studded news magazine-style telecast tonight on CBS at 9 p.m.
Queen Latifah will lead viewers through segments shot by production teams. She doesn't interact directly with winners, she told USA Today: "I'm wacky enough to make it work. I had to tap back into my hip-hop to freestyle it."
The crystal statuettes were taken to winners at locations including Los Angeles, Nashville, New York, London and the USO tour in Kabul.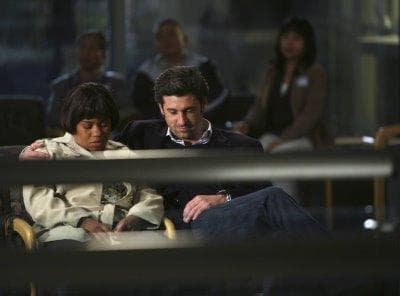 Fans have logged more than 10 million votes thus far. Here's a look at the nominees from the Grey's Anatomy cast as well as their competition ...

Favorite Female TV Star
Sally Field, Brothers & Sisters
Katherine Heigl, Grey's Anatomy
Jennifer Love Hewitt, Ghost Whisperer
Favorite Male TV Star
Patrick Dempsey, Grey's Anatomy
Charlie Sheen, Two and a Half Men
Kiefer Sutherland, 24
Favorite Scene Stealing Star
Richard Belzer, Law & Order: SVU
Neil Patrick Harris, How I Met Your Mother
Chandra Wilson, Grey's Anatomy
Steve Marsi is the Managing Editor of TV Fanatic. Follow him on Google+ or email him here.