Entertainment Weekly caught up with the quartet of American Idol contestants eliminated from the semifinals last week. Here are excerpts of what they had to say:
EW: How are you feeling after being the first of the Top 24 to go?
Garrett Haley: I'm actually feeling really good. I told myself that morning that either way, even if I get sent home, I'm going to be happy and smiling and stuff. I'm still happy and I'm still smiling.
EW: Going into the evening, how did you feel about your chances?
Amy Davis (pictured): Well, I definitely was not happy with my performance. It's really because I have a disadvantage: I'm trained to use an in-ear monitor. My brain is trained to use an in-ear monitor. I'm telling you, it's a bad skill on my part. Without an in-ear, I can't stay on pitch. I tried to do as well as I could without having that in-ear monitor, but it was obviously a very pitchy performance.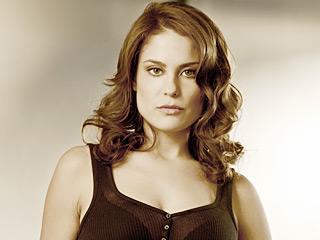 EW: You say you don't have to be the winner to win on American Idol, but what does that mean? How do you get a record deal?
Joanne Borgella: Honestly, I feel like the winner. Basically, I'm going to work on my music. Hopefully later on within this year or early next year, I'll have some music out. You're still part of the Top 24, you're in the American Idol home. You're still signed with great people, you're working with great people. I'm probably in the best position I could ever pray for.
EW: What's your response to Simon's suggestion that you get a good job and don't pursue music?
Colton Berry: You know, Simon chose us to be the Top 24, and we're the Top 24 out of hundreds of thousands of people who auditioned. Obviously, we're all going to have careers in music no matter when we get kicked off. I mean, American Idol is the top of the top â€" you don't go any further than American Idol. Simon's job is to sit there and be mean. I expected him to say something like that, and of course, I didn't take it personally.
Matt Richenthal is the Editor in Chief of TV Fanatic. Follow him on Twitter and on Google+.