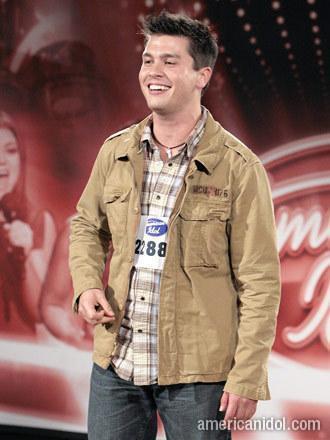 Jason Yeager
has a long way to go until he reaches the status of Michael Johns and David Archuleta on American Idol.
As far as the men go, those two semifinalists have received the bulk of the air time and publicity thus far on season seven. But a new interview in The Fort Worth Star-Telegram may help shed some light on Yeager. Here are excerpts from it:
What do you carry back from your audition in Dallas?
I had a really good audition. Randy was just impressed that I picked a really hard song to do. I did a Take 6 song; they're a Christian a capella group and it's a song called Mary. I wanted to do something that was kinda random that they had never heard before so that they wouldn't try to compare me [to the original] and so they wouldn't be saying, from the get-go, "Oh, another guy doing Justin Timberlake" or regular Top 40 stuff.
So what's more terrifying, performing in front of 1,000 people or in front of three American Idol judges?
The crazy thing is that being in front of a bunch of strangers that I don't know is totally comfortable for me, but when you've got three obviously very interesting faces that you see on television, you don't know exactly what you're getting into there. They're looking at you, they're judging you, they're trying to pick [at] every little thing about you. That was very intimidating.

What does your stomach feel like when you walk into the judges' room -- is it like visiting the principal's office?
It's pure nausea. Definitely the nerves part of it is a lot tougher than I'm used to having to deal with. A show of this magnitude, and being a part of it, and getting more into it, every audition just becomes more and more intense.
I just really have to put myself mentally somewhere else and just try to picture me being on a stage in Branson, or I used to work at Six Flags and be in front of hundreds of people every day. ... I'll just try to think about that instead of these 35 million people at home watching.
Matt Richenthal is the Editor in Chief of TV Fanatic. Follow him on Twitter and on Google+.