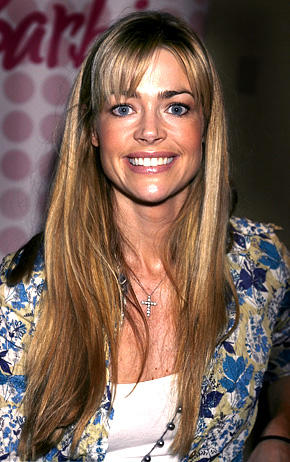 Seriously, folks, who on earth cares about what Denise Richards does on a daily basis?
At least Kim Kardashian has no discernible skills other than the possession of large breasts, so why not put her on reality TV? But Richards has been in a handful of movies. She could continue to make a decent career out of that.
Instead, the actress and single mom is set to star an untitled E! series which will follow her around as she "navigates Hollywood, romance and motherhood."
The show, which is being produced by Ryan Seacrest's company, will debut in the summer and make us incredibly nauseous every time it's mentioned.
"The show will give viewers an inside look at what it's like for Denise to go through these ups and downs while always in the public eye," said Lisa Berger, Executive Vice President, Original Programming and Series Development for E!, in a statement. "At the core of this series is a resilient single mom who is trying to get her life back on track."
No it's not! It's just an incredibly rich actress desperate for attention!!!
Please, people, do not give it to her.
Matt Richenthal is the Editor in Chief of TV Fanatic. Follow him on Twitter and on Google+.