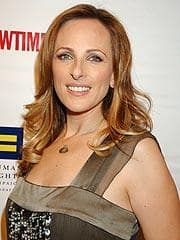 How can someone who can't hear music perform on Dancing with the Stars? Actress Marlee Matlin will answer that question this season. And right now:
"So much will depend on me being in synch with my partner with my eyes, with my arms, with my legs," the 42-year-old Oscar winner told People. "Plus … sign language has given me a an internal metronome."
This innate rhythm - along with two powerful hearing aids - will assist Matlin in her quest for a Dancing title. Her pro partner will also help a lot.
"My partner, Fabian Sanchez, is Latin. And as any one can tell you, Latins speak with their hands, their bodies. He's great," she said. "We use a combination of lip reading (he's easy to follow even if he has a slight accent), signing (the first sign he learned was "again" â€" he uses it a lot) and an interpreter."
So, does the deaf actress has any history with the mambo? Or the paso doble?
"I've had no formal dance training. Though I did a little dance in Children Of A Lesser God, that was improvised," Matlin said. "But I figure that I'm ready in that I communicate with my body when I sign and dance is a lot like that. … Right now I'm not terrified of Latin dances; I've got a Latin partner and he's a Mambo champion! I've already begun the Cha Cha and I love it!"
Matt Richenthal is the Editor in Chief of TV Fanatic. Follow him on Twitter and on Google+.