Well, in a manner of speaking.
After weeks of being approached about the identity of the mysterious vixen who narrates the series, Gossip Girl producer Stephanie Savage gave her standard answer in an interview with CTV.
"We are all Gossip Girl," says Savage with a laugh.
"We all feed the chain, participating in a circle, a circus of information, whether we want to admit it or not," the admitted blog reader admits.
Guess it's not Eric van der Woodsen, then?
Savage says sites like Perez Hilton, TMZ or The Hollywood Gossip are real life counterparts to the fictitious blogger on the series Gossip Girl.
But instead of updates on Britney Spears, Lindsay Lohan and Paris Hilton, Gossip Girl keeps tabs on the Upper East Side's elite teens.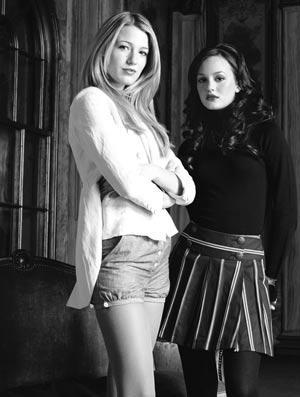 The series stars a pair of beauties in Blake Lively (left) as Serena van der Woodsen and Leighton Meester (right) as Blair Waldorf.
The mysterious blogger, Gossip Girl, is voiced by Kristen Bell of Heroes fame, but the actress has yet to appear on the show.
"Kristen does a great job with the voice over work and we're so pleased. She really digs out every nuance of humor and attitude and I think she does a great job," says Savage.
"We'd love for her to be a part of the show whatever way she wants to be. But it's fairly sacred that the identity of Gossip Girl is kept secret."
Stephanie Savage is the executive producer alongside Josh Schwartz, who created the series, as well as Chuck and The OC.
Schwartz and Savage first met when Savage was working with director McG to create a series about Orange County, a wealthy California area that is also a hotbed of surfing culture.
After The OC finished its run after four seasons, Schwartz was asked by The CW, which airs Gossip Girl, if he would adapt the popular book series. Schwartz invited Savage to work on the show with him.
"We were thrilled when we got the opportunity to do Gossip Girl and we thought it would be a great project," says Savage.
When it came to fleshing out the popular books for adaptation, Savage says that they needed to respect the books, but also find something new in the story that they could tell on screen.
"I think the core of each character has been respected, and we tried to throw in details for fans of the book," says Savage.
"But when we were adapting the books we really felt like we needed to create characters that we could invest ourselves in as writers. Hopefully audiences will want to spend 100 hours of their lives over the course of several years on that journey."
Savage feels confident that the series will succeed because she knows they found the perfect Gossip Girl cast.
In addition to Lively and Meester, the cast is rounded out with Penn Badgley as Dan, Chace Crawford as Nate and Taylor Momsen as Jenny.
Like the cast for The OC, Savage says she has gathered her ideal group of actors, and was surprised that her luck has turned out so well.
"It's always hard, and every person you really want, there's always a series of obstacles to overcome. Whether it's making their deals, or convincing everybody of your passion, and nothing is easy," she said.
Now that the writers' strike is practically over, The CW has announced that 5-6 more episodes of the show's first season will be produced.
When those new episodes will air on CTV is still unknown.
Steve Marsi is the Managing Editor of TV Fanatic. Follow him on Google+ or email him here.