Rock of Love Contestants Respond to Saturday Night Live Skit
Matt Richenthal at .
This weekend, Saturday Night Live ran a skit that mocked Rock of Love and Bret Michael's search for a soulmate. The show's two main targets? Peyton and Daisy.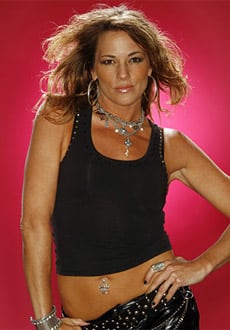 The pair of reality show contestants have now responded to the mockery, with Peyton (pictured) defending the implication that Michaels wasn't attracted to her:
OK...even Saturday Night Live spoofed me regarding the 'unattractiveness'. Dudes! Bret and I had a total attraction to one another. The scene of me in his room and us talking...well, alot was left out and I knew how he felt about me and he thought I was hot and cool and the total package....but they didn't show that...editing, editing, editing.
However, we did not have the love chemistry necessary to take it to another level. But, hey, at least we found out and we will be friends forever...I hope.
We all hope, Peyton.
Meanwhile, Daisy shared the following thoughts about being spoofed on Saturday Night Live:
So They Did This Funny Spoof Of The Show On SNL... It Was Great... Even Though I Cried A Little Because They Made Fun Of Me.. I Still Laughed... You Have To Laugh At Your Self Sometimes!! And I will be The first To Admit That Sometimes Im Ridiculous... But Hey Im just me!! 
Matt Richenthal is the Editor in Chief of TV Fanatic. Follow him on Twitter and on Google+.