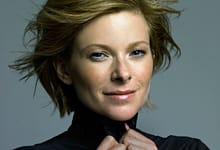 Attention, All My Children fans: This just in, from ABC.com:
"You wanted it, you got it! Cady McClain returns to All My Children as Dixie Cooney Martin on Friday, May 2."
The network added:
"Dixie is back in Pine Valley with a mission: She's reuniting Tad with their long-missing daughter, Kate! As the audience knows, Kate was stolen at birth, put up for adoption and now lives with Nurse Julia under the name of Kathy. Only Adam — Dixie's evil ex-husband and Tad's lifelong enemy — knows the truth that Kathy is Tad and Dixie's child.
"When last seen in January 2007, Dixie fell victim to a serial killer.... "
But that's just a silly detail All My Children can easily overcome, right?
"Her ghost watched as Tad received a comforting hug from Kathy. It was then that Dixie realized Kathy was really her daughter. Now, with her angelic hand, Dixie will guide Tad into the loving embrace of their little girl. This is drama you can't miss!"
What's your take on ABC's last sentence there? Leave a comment. Let us know.
Matt Richenthal is the Editor in Chief of TV Fanatic. Follow him on Twitter and on Google+.