In the trailer for the upcoming episodes of The Hills, it's obvious that the tension between Heidi Montag and Spencer Pratt is rising.
"When we get back to L.A., I need you to move out... I gave up everything for you!" Montag says. "I'm not the one who wanted to see other people!"
Did Spencer Pratt give his number to another girl? Worse?
Not surprisingly, Heidi Montag and Spencer Pratt have chosen, exclusively, to open up about this in the new issue of Us Weekly!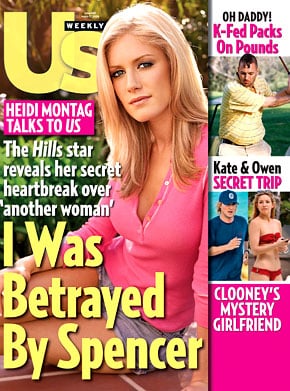 Apparently, the magazine reports, there was another girl who wreaked havoc on the not-at-all-fake relationship of Heidi Montag and Spencer Pratt.
"Spencer and I have really had our ups and downs," Montag said.
"I've been betrayed by friends before, but I've never had a boyfriend do this to me. Spencer and I may differ on what it means to cheat."
"We're definitely on a roller coaster," Spencer Pratt admits. "I'm not too happy about a lot of things."
Montag and Pratt also revealed that their matchmaker was none other than famed Laguna Beach alumna Kristin Cavallari.
"[Kristin Cavallari] made it all happen," Pratt says. "She said to me, 'I know this girl who's so hot and perfect for you!'"
Matt Richenthal is the Editor in Chief of TV Fanatic. Follow him on Twitter and on Google+.