The Bachelor: London Calling star Matt Grant said he made a trans-Atlantic love connection on the reality dating series' upcoming 12th season.
"I definitely found love. It was incredible. I'm still buzzing from it now," the 27-year-old global financier told reporters Monday.
He probably already broke up with her, but guess we'll find out for sure soon. The new season gets underway next Monday!
Grant is the international star in The Bachelor history, something he was worried about prior to meeting his 25 American suitors.
"I was really concerned about how that would go down," said Matt Grant. "Overall, it went down really well. But I won't lie, I was concerned about it for sure."
One thing Grant - who is serious about family - wasn't concerned about was The Bachelor trend in which the show's stars always break up after.
If hasn't been bad enough, last fall's The Bachelor edition ended with jackass star Brad Womack rejecting both of his final suitors.
Fortunately, DeAnna Pappas will return as The Bachelorette. But resentment over Womack's rejection stings - though Matt Grant is unfazed.
"If you were to go by track records, life would be pretty dull," he said.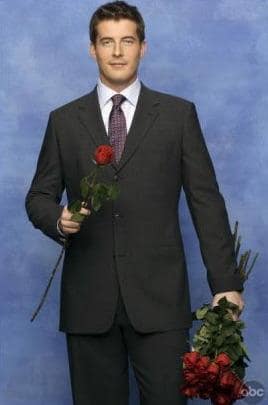 "Those previous guys weren't me. I was confident that I could come onto this and be myself and I was hoping therefor that there would be that one person that would standout - someone who has those unique qualities. I'm not too fussed about the track record of the show... it didn't bother me in the slightest," he said.
So will Matt Grant's chosen trophy wife relocate to the UK?
Now that there's a possibility for romance since filming for The Bachelor ended, Matt Grant said there has been no decision on where the couple will live.
"It takes two to tango," he said. "We'll discuss it later. Either country's great, they've both got their selling points... Just need to discuss it."
Ironically, the self-described "British gentleman" was first approached about appearing as a The Bachelor star while on a date.
"I was out with a girl," he said. "I lost my wallet and left my coat there. It was one of those nights where you're just thinking, 'Oh geez. Get me out of here.'"
Despite everything going wrong, Grant went to a London club where he was approached by a casting agent and asked if he had heard of The Bachelor.
Continue reading this interview with Matt Grant here ...
Matt Richenthal is the Editor in Chief of TV Fanatic. Follow him on Twitter and on Google+.