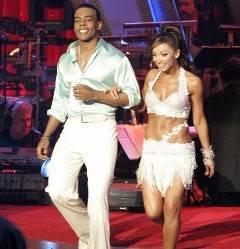 Soon after the men completed their opening round on Dancing with the Stars, a few reacted to their performances.
"I got to get my feet working," said Mario, a perfectionist who practiced on his own when his pro partner, Karina Smirnoff, was out for four days having surgery for a herniated disk in her neck.
The largest contestant, meanwhile, said his puppies were barking.
"My feet hurt all the time," said Penn Jillette, who wears specially constructed dance boots to support his feet and ankles. "Essentially, I'm wearing casts on my feet. The amount of pain in my feet right now is breathtaking. But it was a little more fun than I expected. You don't want to have fun during a comedy show, that's a big mistake. Or during a magic show. Big mistake.
You want to look back and say that you accomplished something. But here, in the moment, there was a little bit of fun and I've never experienced that before during a performance."
"I thought the judges were too harsh with us," said Julianne Hough, who champions the work ethic of her star, Adam Carolla. (Alas, the duo drew the lowest score of the night, 15 out of 30.) "I don't think he was the worst one out there, by far."
Matt Richenthal is the Editor in Chief of TV Fanatic. Follow him on Twitter and on Google+.