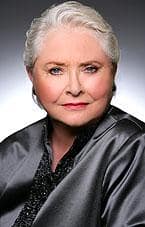 Will Susan Flannery truly be calling it quits in the near future? The star of The Bold and the Beautiful recently covered this and other topics with
TV Guide Canada
:
TVGuide.ca: Are you really planning on retiring in a couple of years? Or is this just another great scheme of Stephanie's?
Susan Flannery: [laughs] Yes, I am retiring — and it's going to be sooner rather than later. I haven't set a date in my mind, but it's not in the too-far distant future.
TVG: No! So that sound we hear is Brad [Bell, The Bold and the Beautiful's executive producer/head writer] constructing a dungeon chamber to keep you under his lock and key!
Flannery: [laughs] I don't know about that. You know, life is short and I had a great run. I'm not leaving in the next four to five months, but I am definitely headed towards leaving the show.
TVG: My therapist is going love this. [sighs] If you had your druthers, how would you like to see Stephanie written out of the show?
Flannery: You know, someone asked me that and all I can say is I would trust however Brad decided to write me out; however best he thinks my exit should play out. Brad's the writer — and I have a lot of respect for him — so, I wouldn't even think to suggest anything.
Read the full interview with Flannery now.
Matt Richenthal is the Editor in Chief of TV Fanatic. Follow him on Twitter and on Google+.