Celebrity judge Ted Allen recently previewed the new season of Top Chef - debuting tonight! - with TV Guide. Here are highlights from the interview.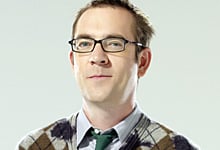 TVGuide.com: Why Chicago?Ted Allen:
You're looking for cities that have enough personality to be a character in the show. Every city has its own culinary traditions. In this season's first episode, they have a challenge with one of Chicago's best-known foods. If you think about Miami [where last season was filmed], you think of hot babes in bikinis and white buildings and beautiful sand... and Cuban sandwiches. It gives the show a look. Chicago is a big, brawny, beautiful, gorgeous city. And it also has a lot of great food.
TVGuide.com: Chicago's a very sophisticated culinary town, too.
Allen: Oh yeah, from the old-timers like Charlie Trotter and Jean Joho to the new kids like Grant Achatz and Shawn McClain, it's a great food town. Lots of Chicago luminaries pop up on the show. This is why Gail and I alternate at the judges' table; they want to reserve a seat to bring in these great culinary luminaries, whether they're Chicago people or people you know from the national stage like Rocco [DiSpirito], Daniel Boulud, Eric Ripert. And of course the ever-bilious Tony Bourdain, who's been one of my favorite guest judges.
TVGuide.com: Any other ways the city plays a role in the challenges?
Allen: Besides the very first challenge, there's one that involves a venerable sports team, there are locations you're going to recognize and a lot of new stuff that most of America might not recognize.
Read the full interview with Allen now.
Matt Richenthal is the Editor in Chief of TV Fanatic. Follow him on Twitter and on Google+.