Adriana Falcon became the first dancer to be sent home by the judges on Bravo's newest reality show, Step It Up and Dance.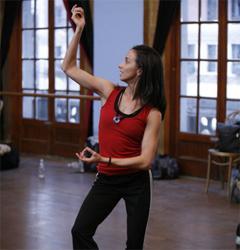 Below, she speaks to BuddyTV about the experience:
What were some of your first impressions of some of the other dancers?
I realized, doing the show, that I make quick judgments about people. So, I had really strong opinions about a few. Let's see, I thought Oscar [Campisi] was a little bit standoffish, but I learned throughout the show that he's actually a great person.
A lot of the dancers from L.A. seemed to have really strong personalities, which I thought was a little bit different from the New York dancers. The New York dancers, myself included, had a little bit more of a chill vibe. You know, we didn't put it out there as much as I thought the L.A. people did.
And how do you think your dance abilities compared to those of the others?
I really respect everyone in the cast and what they brought, because everybody brought something really different. And so, I thought I did the same. My technique is strong and was on the show, and I thought I brought that. And I brought a little flavor as well.
You know, when you're in an environment like that, it's a competition. We didn't know what to expect, so it was a learning process. I think that my castmates are very talented and I think I stood strong up there with them.
Read the full interview now.
Matt Richenthal is the Editor in Chief of TV Fanatic. Follow him on Twitter and on Google+.