Just when you thought you'd seen all the possible reality dating shows, along comes Farmer Wants a Wife. The title of the series is father self-explanatory:
Matt Neustadt, a Missouri farmer, serves as the Matt Grant of the show, hoping to find true love from an assortment of desperate women.
Neustadt will whittle down the 10 women who are sick of city-slickers and want to try their hand at love with a country boy via a series of farm-themed challenges -- such as driving a tractor and taking care of livestock -- as well as through group activities and dates.
"I am a third-generation farmer on land owned by family members and myself," said Neustadt. "The farm has been in my family since the late 1940s."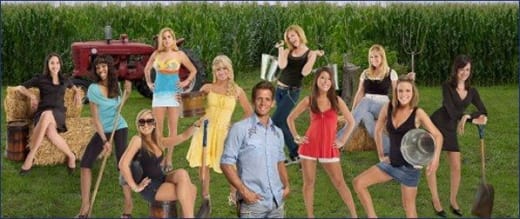 Will Matt Neustadt find true love on Farmer Wants a Wife? We'd never thought we'd ask that question.
The 10 women competing for Neustadt's heart on Farmer Wants a Wife (which premiers on April 30 on The CW) are:
- Amanda, a 21-year-old Northwestern University student from Poughkeepsie, NY who currently resides in Chicago, IL
- Ashley, a 27-year-old Chicago Marriott Downtown senior catering sales manager from Wells Beach, ME and Chagrin Falls, OH who currently resides in Chicago, IL
- Brooke, a 23-year-old Young's Market Co. marketing representative from Dallas, TX who currently resides in Huntington Beach, CA
- Christa, a 22-year-old personal assistant to the director of operations at Pure Food and Wine Restaurant from Cincinnati, OH who currently resides in New York City
- Josie, a 25-year-old Playboy cybergirl, aspiring actress and Loyola Marymount University student from Laguna Niguel, CA who currently resides in Westwood, CA
- Kanisha, a 25-year-old property manager from Ontario, CA
- Krista, a 24-year-old accountant from Kelley, IA who currently resides in Orlando, FL
- Lisa, a 21-year-old singer, dancer, street performer and Eternity Bible College student from Los Angeles, CA
- Stacey, a 25-year-old director of sales, marketing and special projects from Owings Mills, MD who currently resides in Delray Beach, FL
- Stephanie, a 23-year-old jeweler from Boston, MA who currently resides in Los Angeles, CA
Matt Richenthal is the Editor in Chief of TV Fanatic. Follow him on Twitter and on Google+.