After a rushed night of American Idol - during which the contestant each sang two Neil Diamond songs - the performance that stood out the most was that of Paula Abdul.
In mangling her critique of Jason Castro, and actually focusing on a rendition that hadn't taken place on the show yet, Abdul set a new, low standard, even for herself. (Watch the debacle now).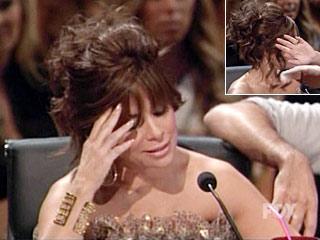 Anyway, Entertainment Weekly was on the scene last night. On reporter recounted the situation from her eat in the audience:
Ryan invited all the Idol contestants on stage and then had the judges run through their thoughts on the first half of the show. (Stage manager Debbie Williams had to step on stage herself to motion the Idols to come out to the stage, as if, perhaps, this half-way check-in wasn't entirely planned.)... then, with executive producer Nigel Lythgoe and Debbie watching from the wings, it was Paula's turn.
"Oh gosh—we've never had to write these things down, uh, fast enough," she said. "Jason, the first song, I loved hearing your lower register, which we never really hear." So far so good.
"Um, the second song, I felt like your usual charm, it was missing for me. It kind of left me a little empty."
Huh? The audience began tittering with confusion, and Nigel and Debbie both began quietly freaking out... Debbie had to stop herself from stepping on camera to end the madness, and Nigel was frantically gesturing a single finger to anyone who could see him: ONE SONG! THEY'VE ONLY SUNG ONE SONG!
As Simon swooped in for his chance to scold the Idols, Nigel stepped off stage to, I'm assuming, get the on-site EMTs to give him some oxygen.
At the ad break, the judges were all whisked out of the studio, Syesha Mercado, David Cook, David Archuleta and Brooke White left waving to the audience, and Jason Castro was left on a stool, stage center, contemplating what, exactly, had just happened.
Matt Richenthal is the Editor in Chief of TV Fanatic. Follow him on Twitter and on Google+.