While it may seem as though Big Brother has been on forever, it's only churned out half the number of seasons as MTV's The Real World. Below, we recap both reality TV mainstays...
The Real World Hollywood: We first met Joey, 24 years old from Chicago, who wants to be an actor. He's very concerned with his looks, feeling that a good body is the key to success in Hollywood. Kimberly, a 24 year old from South Carolina, is introduced next. She wants to be an entertainment reporter for E! News... -- BuddyTV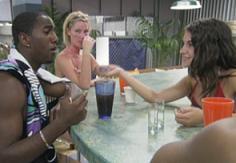 Big Brother: We start with booming announcer guy reminding us that everyone left hates Nat. Moose and Ryan say that it might be smart to keep someone who would automatically lose in the final two, but come on... -- TVGasm
Matt Richenthal is the Editor in Chief of TV Fanatic. Follow him on Twitter and on Google+.