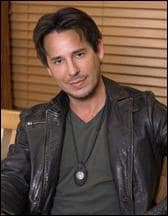 New All My Children star Ricky Paull Goldin has updated his
personal blog
. Here are excerpts from it:
Hello loved ones...it's me. Since the last time I did this, I have had a ton of interviews, lunch meetings with reporters, a couple of photoshoots, wardrobe fittings, meetings with lawyers, accountants, agents, managers, all not necessarily the most fun but definitely necessary.
Last night, which was the night before my first day at work, I went to a benefit for the Heart Share Foundation, honoring amongst others, Cameron Mathison.
I went with Jill Larson, Rebecca Budig, Alicia Minshew, and Melissa Claire Egan, Cameron, and his wife. It was the first time that I took pictures with my new television family. It was strange for me, but I don't know whether it was because of the new show, or because I've never been that comfortable with the paparazzi.
Anyway, I went because Linda Dano asked me to, and I love Linda dearly. If Linda were 5 years younger, or I were 5 years older, she would be Linda Goldin, because I adore that woman. She said the most beautiful things as she presented an award to Cameron Mathison. I also had some really good bonding time with the ladies of All My Children.
I have to say that everybody told me that the cast of AMC is very warm and loving, and all I can say is that first hand, one by one, I'm seeing just how right everybody was. Walt Willey called me the other night to welcome me aboard. Michael E. Knight was already acting like a big brother when I interrupted his haircut at the studio.
Jacob Young gave me a big old bear hug today (my first day) in the hallway as I went down to do my first scenes on the studio floor of All My Children.
Matt Richenthal is the Editor in Chief of TV Fanatic. Follow him on Twitter and on Google+.