Here's some fun news for One Life to Live fans:
There's a new book hitting the market in July, billed as "A Fun, Fact-filled, Everything-you-want-to-know-guide to Your Favorite Soap." It's called: "One Life to Live 40th Anniversary Trivia Book."
Inside, there's a year-by-year breakdown of milestones and news items. There's also a detailed look at many of the memorable cast members featured on the show.
Some of the interesting questions in the book include
What kiss caused an ABC affiliate in Texas to drop the show?
Plans to launch a doll of which character sparked outrage?
Which villain spoofed Tom Cruise's couch-jumping antics on "Oprah"?
Which character was based on Paris Hilton?
What popular singer agreed to perform on the show only if her grandmother, a longtime fan, could be on the set?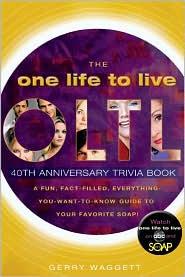 Matt Richenthal is the Editor in Chief of TV Fanatic. Follow him on Twitter and on Google+.