The Bachelorette premieres in less than two weeks.
The counterpart to Matt Grant, DeAnna Pappas will star the lucky woman who will be courted by 25 men.
Pappas was one of the last women standing on The Bachelor season starring Brad Womack. After he dumped Jenni Croft at the final rose ceremony, that jackass opted to dump DeAnna too. Stunning and bizarre.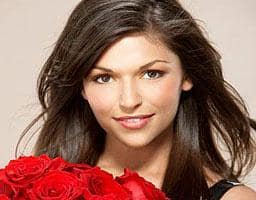 Despite the heartache of losing the man she loved, DeAnna Pappas has bounced back and is ready to give love another shot... on reality TV!
This week, ABC released the identities of the 25 men who will be competing for DeAnna's love and affection on The Bachelorette...
The list - obtained by
BuddyTV
- has not one, but two Brian Ws.
The first Brian W. is 31 and a high school football coach from Texas.
The second Brian W. lives in Indiana, is 29, and is a computer network consultant. There are also two Patricks, but at least they have different initials. Patrick C. is 26 and a financial analyst from Illinois. Patrick D. is also from Illinois. He's a 27-year-old Internet marketer.
The show will feature some good old South Carolina boys to fight for DeAnna Pappas' affection and attention. The first is Donato, a 26-year-old sales rep. There's also Jon, a 35-year-old resort manager and Luke, a 27-year-old oyster farmer.
Some athletes have come to play this season of The Bachelorette.
Sean is 33 and a martial arts master from Kentucky.
Greg is a New York City personal trainer and is 28. There are three pro athletes: Jesse, a 25-year-old snowboarder, Ryan, a 28-year-old football player from Minnesota, and Graham, a 29-year-old basketball player from North Carolina.
The men who will compete this season have strong educational backgrounds, solid jobs, and are ready to give DeAnna everything she's every dreamed of. Chandler, 25, is an insurance representative from Virginia. Twilley, 33, is a software programmer from Oklahoma. Fred, from Chicago, is a 30-year-old lawyer and Eric, of Boston, is a 31-year-old senior analyst.
DeAnna Pappas, who loves kids, should be excited to meet the two teachers that will be part of this season's cast. Jeffrey is a 27-year-old math teacher from Florida and Richard, also 27, is a science teacher from New York. If food is the way to DeAnna's heart, she'll be interested to meet Robert, a 28-year-old chef from San Francisco.
If she likes a man who keeps up appearances, she'll like Ron, a 36-year-old barber shop owner from Kansas City. If DeAnna goes for the theatrical type, she'll get along with Spero, a 38-year-old actor from California.
Rounding out this season's group are Jason, a 31-year-old account executive from Washington and two Dallas natives. Chris is 29-years-old and a medical sales rep while Jeremy is a 30-year-old real estate attorney.
Last but not least is Paul, a 23-year-old sales manager from Canada.
Matt Richenthal is the Editor in Chief of TV Fanatic. Follow him on Twitter and on Google+.