For Real: The Best Gossip Girl Episode Yet
Steve Marsi at .
Just how real is Gossip Girl? More so this week than ever before, New York Magazine says in its patented (nonsensical) rating system, taking into account real and surreal moments from each episode.
According to the show's unofficial publication, this week's episode, "All About My Brother," rated +1 overall on the realism scale! Below are some excerpts from this New York Magazine feature.
WARNING: As with much of the content on Gossip Girl Insider, this article contains some Gossip Girl spoilers. If you have not seen the episode, avert your eyes until you do. It's well worth it!
Georgina sends Serena a copy of the mysterious video on a memory stick. Plus 1, because sometimes it's the little things.
Isn't Vanessa (Jessica Szohr) supposed to be the skeptical outsider? Wouldn't she see through Georgina immediately? Minus 2.
Dan and Serena make out in the hallways as though it is not completely revolting and rude. Plus 2.
Where is Nate in this episode? What happened to his dating Vanessa? Wouldn't he know Georgina — and thus unravel it all? Minus 1, especially since Chuck is also completely absent.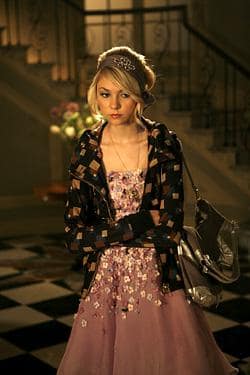 All of Jenny's snotty conversations and arguments, either with her dad or with Dan, are really accurate (if a little too well composed and lacking in wobbly lower lips). Plus 3.
Plus 2 for Eric being brave and for older, hotter, more popular Asher wimping out.
Dan (Penn Badgley) does that endlessly annoying TV thing where he doesn't tell anybody what the problem about Asher is. Minus 2, because he's a teenager and he would have told everybody that could listen.
A final Plus 2 for having everyone at the party more interested in the scandal of Jenny Humphrey and her downfall and all the lying than in anybody being gay.
Rufus reads Jenny's e-mail, and Lily is unsurprised. If parents at the school were that Internet savvy, Gossip Girl would have been shut down months ago. Minus 1.
Plus 3 for introducing the Lily and Rufus "trying to be friends" plotline. Everybody knows that inevitably leads to awkward restaurant sex! Hooraaaaaaay!
Finally, Gossip Girl is duped by fake dish - flooded by false sightings and tidbits, like even the best gossip column. However, it would be better if she continued blissfully nonetheless, so we'll give a Minus 2.
Steve Marsi is the Managing Editor of TV Fanatic. Follow him on Google+ or email him here.