As expected, "Freedom" delivered last night, bringing the Grey's Anatomy world together like never before. Playing a huge part was the terrific Grey's Anatomy music.
Here's a list of music played last night. Click on the song title for lyrics (when available). If you know of any missing songs or can help us with any of the missing lyrics please leave a comment and assist us! We are grateful!
-- Coldplay, "Death To All His Friends"
Meredith and Derek express frustration with their trials. Derek, Richard and Mark overlook the city from Derek's land.
-- Duffy, "Mercy"
Dr. Bailey is trying to see the "bigger picture." Callie and Mark have sex in the on-call room as they talk dirty about Hahn.
-- The Rosewood Thieves, "Heavy Eyes"
Richard has a talk with Meredith. Dr. Wyatt and Mer have a breakthrough. Derek and Meredith agree to move up Jeremy and Beth's surgeries.
-- Priscilla Ahn, "Dream"
Alex helps Rebecca in the shower. Jeremy undresses and kisses Beth. Derek and Meredith discuss sex. Meredith distracts Beth's parents.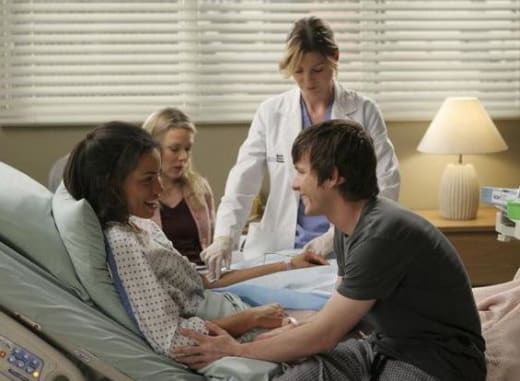 -- Ingrid Michaelson, "Giving Up"
Alex rushes to Rebecca's aid. Derek calls time of death for Jeremy. Derek and Meredith enter Beth's room to tell her the news. Derek throws away the champagne.
-- Jon Foreman, "The Cure For Pain"
Meredith tells Dr. Wyatt that Ellis told her to be extraordinary. George is mad at Lexie for telling him about the intern test. Izzie tries to talk sense into Alex.
-- Adele, "Hometown Glory"
Andrew begins to crash. Derek has an awkward talk with Rose. Cristina begins a surgery. Richard sticks up for Cristina to Erica.
-- Bryn Christopher, "Quest"
Derek looks for Meredith. Richard shows up to talk to Adele. There is a montage of all sorts of Grey's Anatomy characters kissing.
-- Ida Maria, "Keep Me Warm"
Derek finds Meredith outside the trailer.
Steve Marsi is the Managing Editor of TV Fanatic. Follow him on Google+ or email him here.