Season Four ended just one week ago, but speculation has already turned to Season Five (can you believe it) of Grey's Anatomy next fall.
TV Guide's Michael Ausiello has some gossip about the length of next season as well as a big Grey's Anatomy spoiler involving a character who shared in one of last Thursday's major kisses - and may be in for a surprise.

Follow the jump to read on ....
Question: Now that the Grey's finale has aired, can you tell us which kiss was the "major" one that
Shonda Rhimes
was talking about?
Ausiello: Based on her morning-after post-mortem, I think she was referring to Mer-Der's big smooch. Personally, the Alex-Izzie kiss was the only one that made me "lean into the TV."
Question: I just watched an interview with Patrick Dempsey where he mentions that Season Five of Grey's Anatomy will be 30-34 episodes long. Any scoop on that?
Ausiello: Really? He said that? My sources are telling me it'll be closer to 24 episodes.
Question: Got any Grey's Anatomy scoop?
Ausiello: I hear someone may be preggers â€" and that someone shared a red-hot smooch in the finale!
Who do you think it is? The two people shown below? Tell us your thoughts on this potentially huge Grey's Anatomy Season Five spoiler!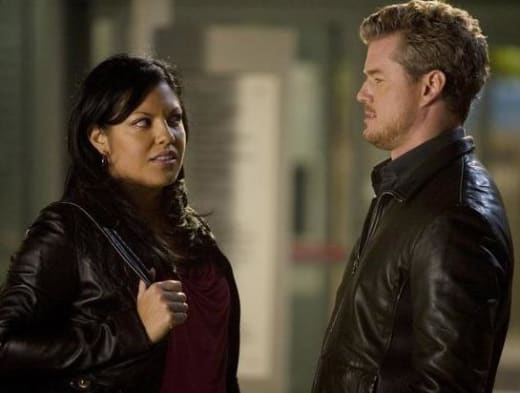 Steve Marsi is the Managing Editor of TV Fanatic. Follow him on Google+ or email him here.