Dan and Serena may be over, at least for this summer - but Penn Badgley has opened up about his romance with Blake Lively.
The Gossip Girl star told E! Online this week:
"Obviously, there's chemistry there ... She's a great girl."
Penn Badgley, 21, said "we have to draw a line at some point with our personal lives. Otherwise, you know, when do people stop?"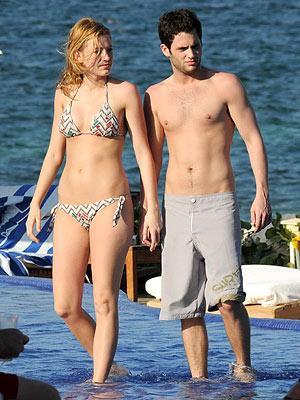 Despite recently photographed kissing Blake Lively, 20, on Mexico's Mayan Riviera, Badgley said he's "not a fan" of on-set romances.
"I think they cause a lot of drama," he said.
"God, I'm being so cryptic."
The actor who plays Dan Humphrey said he is still getting used to the fact that he's become a heartthrob.
His scariest fan experience
:
"I would say I once got mauled by 40-50 girls on the street, all school girls, all from one of these schools that the show is about, and all in plaid skirts, white shirts, and just screaming, eyes glazed over."
Penn Badgley said it's different shooting the CW hit — the season finale, "Much I Do About Nothing" aired last night — in New York City rather than Los Angeles, where most shows film.
"People have a certain respect for the show because it's a show in the city about the city," he said. "In New York I would say it's pretty tame ... out here it gets a little crazy."
Steve Marsi is the Managing Editor of TV Fanatic. Follow him on Google+ or email him here.