For Grey's Anatomy fans who began the season wondering if Dr. ­Erica Hahn (Brooke Smith) was gay, last week's season finale offered an answer - she might just be, after Dr. Callie Torres (Sara Ramirez) made her move.
The two-hour episode - which culminated with Callie planting a kiss on Erica outside of Seattle Grace - had people asking: For the love of The L Word, could EriCal eclipse MerDer as the Grey's Anatomy "It" couple?
Creator Shonda Rhimes tells Entertainment Weekly that we may not have seen the last of this budding (and much buzzed-about) Seattle Grace romance.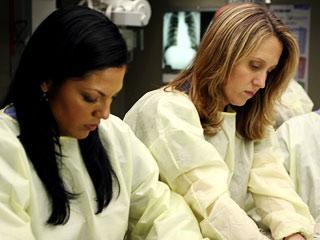 Is there a future for Callie (Sara Ramirez) and Erica (Brooke Smith)?
"Callie and Erica have an undeniable chemistry," says Shonda Rhimes.
"Watching the story unfold is something the writers are looking forward to. I wanted to illuminate their relationship in the same way we try to do all relationships on the show - ­funny, sweet, honest, and a little bit dirty."
As for Brooke Smith, she doesn't think Dr. Hahn was coming out of the closet in the last few weeks leading up to the finale.
In fact, she and Shonda specifically talked about Dr. Hahn
not
being gay when Smith first joined the show last fall.
"Earlier this season, we felt it was too obvious that a strong, powerful woman would be a lesbian," says Smith.
"In fact, Dr. Hahn decided she wasn't going to have a relationship at work, though clearly she came to the wrong hospital."
Like the fans, Smith said she and Ramirez were kept guessing about their relationship until days before taping of the final episode.
Even fellow Grey's Anatomy cast members like Patrick Dempsey (Derek Shepherd) were caught off guard by the surprise kiss; Smith remembers him gasping at the table read for "Freedom," saying, "Are you two getting together?"
"Sara Ramirez is not a bad choice. She's pretty hot!" says Smith.
"Why not? I'm game."
Steve Marsi is the Managing Editor of TV Fanatic. Follow him on Google+ or email him here.