A trio of soap opera stars recently reacted to their good fortune of being nominated for a Daytime Emmy Award: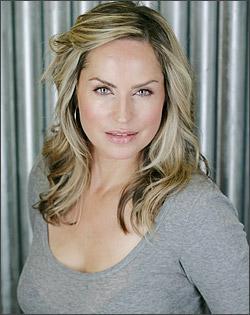 Crystal Chappell (pictured, Guiding Light): It always feels good. There's never a bad feeling when your nominated. It's exciting, I am sort of in the middle of my day when I am driving my kids around, going grocery shopping and paying bills so it's really kind of this surreal thing that is laid in your lap. I am looking forward to June and seeing people and I am so excited that a lot of new people got nominated. It was really kind of exciting. [I submitted]
The second part of Buzz and Olivia's wedding where Olivia is in Company and talking to Jeffrey about their past and the second episode was primarily with Kim Zimmer (Reva). It was Olivia blackmailing Reva to help her with Jeffrey. I thought they were different episodes and told a story, even though it's sort of warped, but it tells a story.

Nicole Forester (Guiding Light): It feels fantastic. I am super duper excited and I just feel really grateful that people watch my work and like it. We had to submit two episodes so I picked two episodes around the time of Tammy's death. The first one Tammy was in the hospital and Cassie was keeping vigil and then the next one was a couple episodes later, after Tammy died, and it was a really crucial and emotional time in Cassie's life.
Rachel Melvin (Days of Our Lives): So now, I've been nominated. HOLY CRAP!! I still can't stop saying it. That first day was just a flood of congrats and compliments which I am AWFUL at taking, let alone with grace and class, but boy I hope I passed with flying colors. I know I'm an actress and I'm supposed to enjoy the spotlight, but I am really uncomfortable with all the attention.
I appreciate it but this is all SOOOO overwhelming. I can't begin to describe how I feel. I am flattered, relieved, stunned, stoked, excited, moved, AH! HOLY CRAP!
Van Hansis (As the World Turns): It feels a little bit different [being nominated this year]. I didn't really think about it that much this year, compared to last year, where I thought about it a lot. I didn't really get nervous about it until this morning when I woke up. I had a conversation with my parents and was like, "If it happens that's great. If it doesn't, that's great too."
If I wasn't nominated I'd still be just as happy because I have a great job. I love going to work everyday. A nomination is only icing on the top of a cake but it's good to have your cake iced. I submitted this one that was right after the towel scene where Luke and Noah (Jake Silbermann) have their towel fight and Luke is begining to think that Noah has feelings for him. Maddie (Alexandra Chando) comes in and says that she's changed her mind and is not going to move out of Oakdale.
It was a good episode because I had some scenes with Alex and also Jake when Noah starts accusing Luke of meddling too much. Also there were some great scenes with Aaron (Agim Kaba). The second episode is right after the first kiss between Noah and Luke and Luke is trying to convince Noah to tell his father that he is gay.
Matt Richenthal is the Editor in Chief of TV Fanatic. Follow him on Twitter and on Google+.