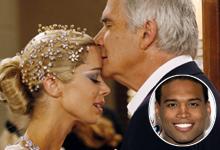 Don't get too excited, Eric and Donna fans!
This union has trouble written all over it, and that's just on the day these two tie the knot. As TV Guide reports, after the "I do's" this Friday, we will learn that the bride has a secret past she hasn't shared with her new hubby.
"When Donna was 16, she had a baby and gave it up for adoption," says The Bold and the Beautiful chief Brad Bell. "The identity of the dad, who is black, is going to remain a mystery for a while."
The product of that union — a young man named Marcus — will soon arrive in L.A. in search of Donna. The role will be played by Texas Battle. And, yes, Bell plans to play the race card a bit.
When Marcus first shows up at Eric and Donna's mansion, she assumes that he's with the staff and sends him to the kitchen. That's always embarrassing.
Matt Richenthal is the Editor in Chief of TV Fanatic. Follow him on Twitter and on Google+.