Heroes star Ali Larter (yes, she'll be back for season three) is on the cover of the latest Allure.
In the issue, the actress opens up about her struggles with weight and the insecurity her profession can create within a beautiful woman.
"I think that's where insecurity comes from, because it starts with being celebrated for the way you look... and it's weird that it's something you did nothing to get," Larter said, referring to the "Hot Girl Syndrome" that fiance Hayes McArthuer claims she possesses.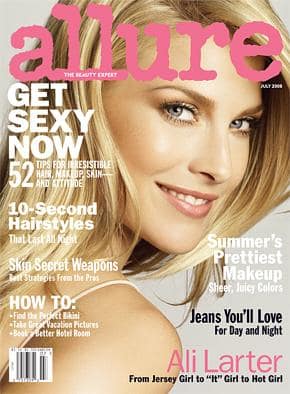 The 32-year-old New Jersey native (famous ever since her whipped cream bikini in Varsity Blues) revealed she once had to have her thighs duct-taped before a photo shoot because "they were a little too round."
Larter said she remembers "sitting in my trailer hysterically crying from the embarrassment I felt about myself, my body - and that no one could talk to me directly."
Now, fortunately, Larter has found the perfect balance in her life.
"I'm an indulger, but then I have to be good... When I'm in really good shape, I like my butt. It's juicy."
Matt Richenthal is the Editor in Chief of TV Fanatic. Follow him on Twitter and on Google+.