Craig Jackson, host of VH1's upcoming series I Love Money (aka The Greatest Reality Show of All-Time), considers himself more of a ringmaster than a leader.
"I'm the brown Jeff Probst," Jackson said to The New York Daily News. "But Jeff Probst, his job is easier than mine. The people on his show are normal, everyday Americans. On this show, we have VH1 reality celebs, so it was a little more involved, trying to get people to do what you wanted them to do. Like be there on time."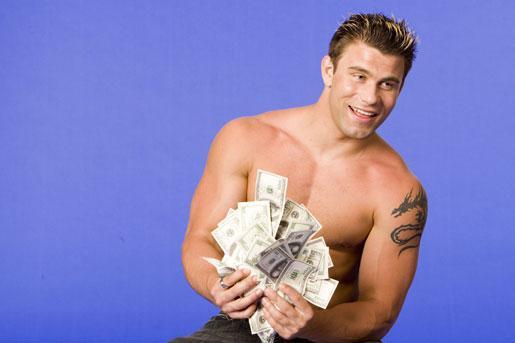 David Amerman (aka 12-pack) loves himself some money!
I Love Money premieres on July 6 and pits 17 all-star cast members from Flavor of Love, Rock of Love and I Love New York in a series of over-the-top challenges for the chance to win $250,000.
"Going into the show, I thought that I'm in the best shape, I'm the strongest. These challenges are a piece of cake and I'm going to win every one, but the way they are designed, there's a whole lot of factors that determine who can win it," said contestant David Amerman, pictured above, better known as 12-Pack from I Love New York. "It's not just based on physical strength but mental strength, too."
Clear your Sunday night calendars, people. This is gonna be awesome!
Matt Richenthal is the Editor in Chief of TV Fanatic. Follow him on Twitter and on Google+.