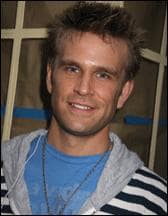 John Brotherton
is relatively news to One Life to Live. H first aired on August 21, 2007.
That date just happens to be the actor's birthday. What else can we reveal about the star? Take a look at a few fun Brotherton facts below:
The first scene Brotherton taped was with Forbes March (ex-Nash).
His wife, Alison, is an actress and appeared as a young mother opposite Kathy Brier (Marcie) in a 2008 episode of One Life to Live.
s good friends with co-star John-Paul Lavoisier (Rex), with whom he shares a love of golf and poker.
Grew up in Seattle, but is a huge New England Patriots fan.
Matt Richenthal is the Editor in Chief of TV Fanatic. Follow him on Twitter and on Google+.