How on earth did Tyra Banks and Heather Mills not team up this this idea?!?
There's a new reality show coming to England. It's set to debut on BBC in July and it's called Britian's Missing Top Model. As the name suggests...
... the series is a modeling competition between models from around the world with various disabilities. Some hopefuls have missing limbs, one is paralyzed and another is deaf. Seriously. Take a look at this contestant: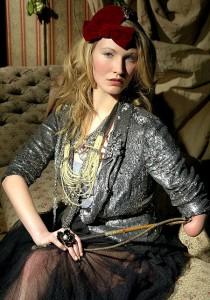 Marie O'Riordan, one of the judges on the show and the editor of Marie Claire UK, said:
"I do believe the program could help challenge our attitudes to disability. I want to see the winner shake up the fashion industry. These young women shouldn't be invisible to the fashion world just because they are disabled."
We agree with the sentiment, Ms. O'Riordan, but who are you trying to fool? Do you expect us to believe that Britian's Missing Top Model is about social change instead of television ratings?
Matt Richenthal is the Editor in Chief of TV Fanatic. Follow him on Twitter and on Google+.