Matt Neustadt chose Brooke on this week's season finale of Farmer Wants a Wife.
She's hoping it was the series finale, of course, and that this couple lasts far longer than any that got together as a result of The Bachelor.
We can't say for sure if that will happen, but we can excerpt pieces of an interview these two gave to BuddyTV:
Are they still together?
Matt: I would say we're very optimistic about seeing what we can do from here on out.  We haven't had the chance to spend as much time together as we'd like, due to the fact that we couldn't be seen together for so long.
But I have some pretty strong feelings for her, I think she has the same for me, and I'd like to see where it goes.  I'm actually very excited about seeing where it goes, but I don't think we're naïve enough to say that we're getting married tomorrow or anything.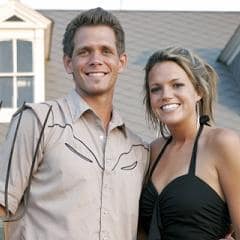 Is Brooke moving to Missouri?
Brooke: Yeah, I'm actually going to move to Missouri.  Just to be close to him, because we haven't been able to hang out since all of this has happened.
It's just been really hard, so now that we actually have a chance to be a normal couple and really get to know each other and spend time together, I would love nothing more than to be near him and move.
Matt Richenthal is the Editor in Chief of TV Fanatic. Follow him on Twitter and on Google+.