This is almost as shocking as the discovery of a new Toastee nude photo.
Bret Michaels and Rock of Love season two winner Ambre Lake have broken up. Before you go doubting the validity of this rumor, consider the source: VH1 itself.
The network released the following statement, which announced the plans for Rock of Love 3 in 2009:
Rock star Bret Michaels tried twice to find love by filling a mansion with gorgeous women and having them compete for his heart. But after the final pass was handed out and the cameras stopped rolling, Bret's picks didn't work out. He and season two winner, Ambre Lake, really tried to make it work and although they still remain close friends, between his tour line-up and her work schedule there's no time for a relationship.
"Seasons one and two of Rock of Love shattered ratings records and VH1 is so happy to have Bret back for another outrageous season. This time we'll reveal Bret in his most comfortable setting- the infamous rock star tour bus." said Jeff Olde, VH1's Executive Vice President, Original Programming and Production.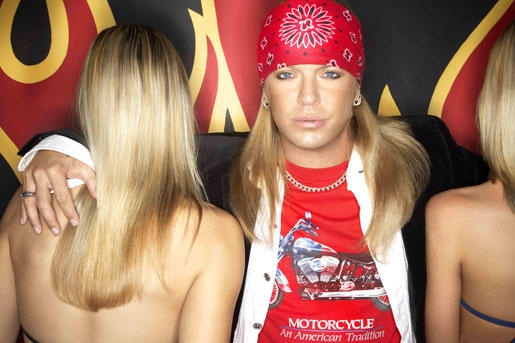 "Bret has been very upfront and honest about how difficult maintaining a normal relationship may be for a touring rock star. He's right, it's absolutely an insane lifestyle and neither of us had the time to make it work," Lake said.
Are you surprised Michaels and Lake didn't work out? If so, there's a bridge in Brooklyn we'd love to try and sell you.
Matt Richenthal is the Editor in Chief of TV Fanatic. Follow him on Twitter and on Google+.