Rumors are flying that this week's bachelor eliminated by DeAnna Pappas, Jeremy Anderson, a 30-year-old real estate attorney from Dallas, Texas, will become the next star of The Bachelor when the series returns this fall.
Two weeks ago, Jeremy seemed conflicted about the idea of going through it again, according to Access Hollywood, and wasn't sure if ABC had interest.
Yesterday, though, reporters questioned whether or not he had thought about being the next star of The Bachelor and this time, Jeremy seemed more open.
"It was a great experience," Anderson said.
"It was probably the most enlightening thing I've ever done. I feel like I took more out of it than anyone."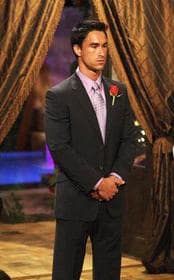 This morning with the rumors growing louder, reporters questioned DeAnna Pappas on whether Jeremy Anderson would be a good pick as The Bachelor.
"Jeremy would make a great Bachelor because he has everything to offer. He is the perfect man," DeAnna Pappas said.
"He has a wonderful outlook on life and love. He has a great career ahead of him. He has a great dog. He has the total package."
Is he even available though? On a conference call, Jeremy Anderson admitted that he is currently dating someone but did not reveal who.
"I have started seeing someone," he said. "It was tough in the beginning and it was tough to get back out there because you can't really date while the show is going on. Once the show was over I could kind of explore the dating world in real life is a different universe to dating on TV."
Also rumored to be the next Bachelor? J.T. Torregiani.
Matt Richenthal is the Editor in Chief of TV Fanatic. Follow him on Twitter and on Google+.