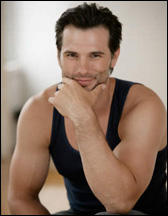 We thought that headline might get your attention.
In a recent interview with Soap Opera Weekly, As the World Turns star Austin Peck opened up about a number of topics...
Soap Opera Weekly: Parker and Liberty's storyline has freaked a lot of people out, since they had sex at so young an age.
Austin Peck: But the good thing is that Brad's perspective [on giving out birth control] is bringing up a lot of conflict. You have a lot of parents, a lot of people, with opinions about it. There's popular media opinion, you have conservative old-school opinion, etc.
So there's a lot of debating going on — and I don't get a sense that the show has chosen to take a point of view. Hats off to Chris (Goutman, As the World Turns executive producer) and the writers, because they're presenting the points of view.
Weekly: Is it weird that Brad has transitioned into such a hardcore family man and such a stickler?
Peck: Right now Brad has a tremendous amount of angst, so his sense of humor is kind of lacking. It's okay for me, because he's human and everybody goes through periods like that. But also, what makes Brad who he is is his sense of irony and his sense of humor. The character has to grow, but there always will be elements of him being a big puppy dog, with that goofiness.
It totally coincides with my subtext, as far as why Brad came back to Oakdale in the first place. If he doesn't grow and change, it's a short-lived character.
Matt Richenthal is the Editor in Chief of TV Fanatic. Follow him on Twitter and on Google+.