Friday Night Lights' Zach Gilford, 26, a Chicago native, got a degree from nearby Northwestern but actually rooted for Michigan. It's a long story.
He was raised on the North Side but would rather chug phlegm than see the Cubs win a World Series. Gilford is an Ozzie Guillen guy. A Bears guy (he owns an authentic Nathan Vasher Bears jersey). A Bulls guy (a high school friend tattooed "Pip 33" on him in honor of Scottie Pippen, and his dog is named Pippen).
Anyway, we were there to talk about him and Friday Night Lights, a series so achingly well written and well acted that it almost makes you want to go through high school again. Season Three begins October 1 on DirecTV.
It isn't a perfect viewing arrangement, but it's better than waving goodbye to Friday Night Lights altogether after Season 2.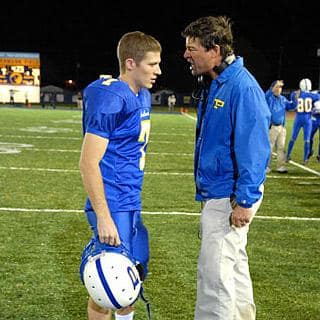 Peyton Manning is a huge fan of the show, which chronicles life and times in a small Texas town and its obsession with high school football.
That's what Manning told Scott Porter, who plays Jason Street, the Dillon quarterback whose life is forever changed when he suffers a spinal injury. Porter introduced himself to Manning not long after the Colts won Super Bowl XLI.
"I don't want to bother you," Porter said. "I just wanted to tell you congratulations on the Super Bowl."
"Hey," Manning replied, "I just heard you got Season 2, so congratulations to you, too. I love that show. The only thing is, we never call the starter, 'QB1.' He's just the quarterback."
Here's the thing: Scott Porter didn't tell Manning who he was; Manning just knew. And almost nobody in the cast uses the QB1 phrase anymore.
"If Peyton Manning says something about it, we can't do it," Gilford says.
There are a thousand reasons to watch Friday Night Lights, and that's one of them - the attention to detail. Plus, you can relate to the characters.
Maybe you had a football coach like Kyle Chandler's coach Eric Taylor. Or a teammate like Taylor Kitsch's boozed-up fullback Tim Riggins.
And nothing is more universal than the innocence, confusion and cruelty of one's high school years.
"On one show, they have more issues than we might face in three years," says Texas coach Mack Brown, who made a cameo appearance as a Dillon football booster in Season One (he killed, by the way).
"But they are real challenges you can come across in a program. People see the football each Friday and Saturday, but what they don't see is the life-changing experiences the kids have and the coaches deal with leading up to the game."
Gilford broke his leg playing football in eighth grade, and that was that. "I was never going to start on our varsity team," he says.
He went to nearby Northwestern, studied drama and education, got his degree, moved to New York, found a job making about $11 an hour selling outdoor clothing and gear, and gave himself two years to make it in acting.
The Friday Night Lights gig was a happy accident. Gilford initially read for the Tim Riggins part during a New York audition. During a later audition in L.A., the casting director asked him to read for the Matt Saracen part.
Continue reading this article on ESPN.com ...
Matt Richenthal is the Editor in Chief of TV Fanatic. Follow him on Twitter and on Google+.