Some Grey's Anatomy spoilers and gossip from Kristin Dos Santos of E! Online ...
Q: So what's the deal with the new promos for Grey's Anatomy?
A: After a couple of promos that were a wee bit misleading (including the infamous one where McDreamy supposedly dies), we now have a glorious payoff: A sneak peek of Cristina's first meeting with Owen Hunt (Kevin McKidd of Journeyman).
Q: On Grey's Anatomy, I heard that McSteamy got Callie pregnant and that their baby is the new love in his life. Tell me it's true! McSteamy offspring would be sooo cute.
A: As much as I agree on the cute, I checked, and this will not come to pass. According to my sources, Callie is definitely not pregnant, either by McSteamy or George, and don't let nobody tell you different.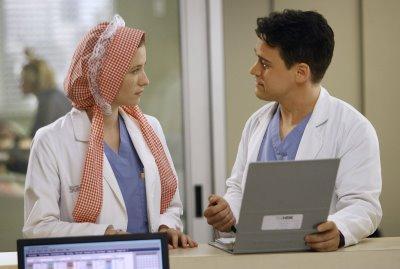 Q: George has been with, like, everyone on Grey's Anatomy. He even saw Bailey's vajayjay. Is Lexie next in line for a little O'Malley magic?
A: According to my Grey's Anatomy sources, Lexie and George don't have a romance this season that's a major storyline (at least, not in the first part of the season); however, two other doctors we love will be hooking up, and it is most definitely major.
Interesting! Anybody have any guesses or predictions on that front? You can share them via comments below, or discuss in our
Steve Marsi is the Managing Editor of TV Fanatic. Follow him on Google+ or email him here.