"They write a shirtless scene for me in every episode," Friday Night Lights' resident bad boy Taylor Kitsch (Tim Riggins) tells E! Online.
"I fight them on every episode. Sometimes I win. Sometimes they win."
If that doesn't make you want to watch Friday Night Lights, we don't know what will. But these additional spoilers should also boost the cause:
Tim and Lyla (Minka Kelly) are totally together (maybe you noticed), and Taylor is bringing the sexy back. But is there any long-term hope? "Sure, why not?" Taylor Kitsch said. "If she goes from Jesus to him, she must be into him."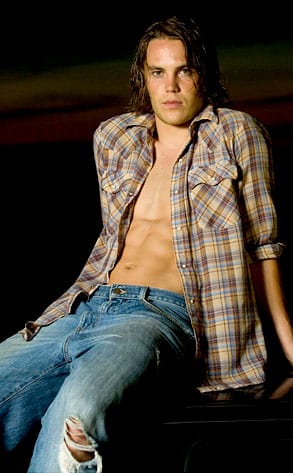 Another thing you probably noticed is that D.W. Moffett joined the cast as Joe McCoy, the pushy, aggressive father of freshman QB phenom J.D. (Jeremy Sumpter), who is billed as the next Jason Street (Scott Porter).
And that does not bode well for the on-field future of Matt Saracen (Zach Gilford). But he's not worried. Gilford tells E! about his competition, "Everyone thinks [J.D.'s] really good, but come on, he's no Matt Saracen."
Meanwhile, Tyra (Adrianne Palicki) and Landry (Jesse Plemons) are taking a break. Tyra's going to be getting with a new guy named Cash (Zach Roerig), and that is rough on poor Landry, which is in turn rough on Adrienne.
She said, "Poor guy can't catch a break! That was the first thing I asked our boss, Jason Katims, when I talked to him this summer: What happens with Tyra and Landry? I don't feel like it's over, I don't feel like we're done, but poor Landry."
Dillon football kingpin Buddy Garrity (Brad Leland) has a new nemesis, and her name is Tami Taylor (Connie Britton). Yep, Tami's getting her chance to take on the devil town's obsession with football. Stay tuned!
Smash (Gaius Charles) has graduated, but is still in Dillon, not at college. Coach (Kyle Chandler) is working to save Smash and get him back in the game, but at the season's onset, things look pretty dim.
Oh, and apparently there's going to be a wedding before the season is out. Who could it be?!
Steve Marsi is the Managing Editor of TV Fanatic. Follow him on Google+ or email him here.