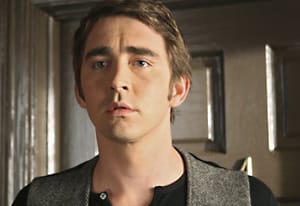 Lee Pace is sexually frustrated.
Well, his character of Ned is sexually frustrated, which makes perfect sense considering he can't touch the woman he loves. Here's what Pace had to say about that fact - and a bit more - in a recent interview with TV Guide:
TVGuide.com: Family seems to be a recurring theme this season— Emerson's, Chuck's… will we ever meet Ned's family, whether they be alive or dead at the moment?
Pace: You're absolutely right; family is a big issue this season, how what went on in their pasts has made them the people they are now. Later this season, Chuck and Olive take it upon themselves to find Ned's twin half-brothers, and they make life very complicated for Ned. But it's good for him. He's got a lot of problems, a lot of hang-ups that he's not particularly ready to confront. But… he does, and I think in every episode you see Ned take a step forward. It's all about making life complicated for Ned. Poor Ned!

TVGuide.com: Pushing Daisies is very quaint, very old-fashioned and innocent. But since Ned can't ever touch Chuck, will his sexual frustration ever become an issue?
Pace: Yes, I think so, for both of them. They've been together for over a year now, and it's getting complicated. Is this going to be it for the rest of their lives — spooning through plastic? I like that Bryan Fuller is tackling these things with them because it makes them more grown-up, that they actually do have a sex life.
Matt Richenthal is the Editor in Chief of TV Fanatic. Follow him on Twitter and on Google+.