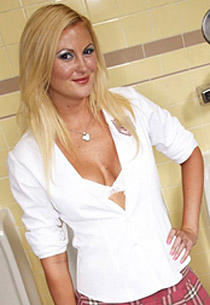 As much as we love Megan Hauserman - and loyal readers know we really love Megan Hauserman - even the Reality TV Scoop staff was taken aback by the fact that this ousted Rock of Love Girls: Charm School contestant was interviewed by a respected publication such as TV Guide.
Seriously!
Here are highlights from the conversation:
How did you like being on Charm School? I hated it. It was horrible.
Sharon Osbourne really tore into you. Was it strange to have someone in charge who had seen you on the previous shows? Y'know, I just felt like Sharon was a little overcritical and I just felt like the whole thing was too confining. The whole situation was not fun for me at all.
Do you ever wake up in the morning and say, I'm going to be really nice to people today? Oh, I'm nice to people, in real life. Because I surround myself with people I like. I'm just not nice to people there because I don't like them.
What would you have done if you'd won the $250,000 on I Love Money? I would have started my charity for mentally-challenged dogs and spent my life helping them.
When do you think it's time for you to get your own, like an I Love New York where you have guys competing to date you? I'm very open. I definitely am single and I would love to meet somebody who would be a good match for me. I think that would be a great environment to do so.
Matt Richenthal is the Editor in Chief of TV Fanatic. Follow him on Twitter and on Google+.