This is discouraging.
Tim Kring sat down for a panel discussion at this week's Creative Screenwriting's 2008 Screenwriting Expo. We're thankful that the Heroes creator answered every question from fans in an honest manner, but we're disappointed by the admission that the show has pretty much gotten away from Kring.
For example, comparing the series to Lost, Kring said "we didn't have an island to get off of," as he admitted there's no planned-out conclusion to the series. No wonder the episodes often seem to be pieced together at the last second, with no consistent flow to them.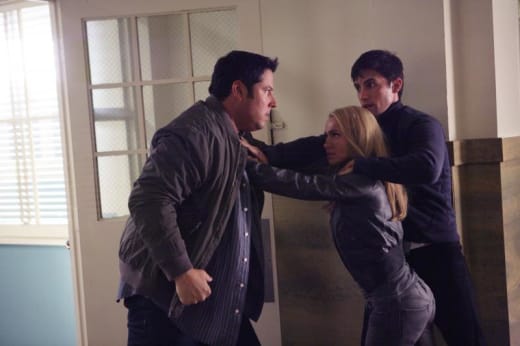 What will happen to Parkman, Claire and Peter? Tim Kring doesn't know.

Here are other excerpts from Kring, none of which, sadly, gives us hope that he knows there Heroes is going:
On his original intention: "My original idea was more of an anthological vibe to it, where you regenerate the characters... I was primarily fascinated by the origin story. Once the original story is over, and the character has no more questions about what's happening or existential drama, then the questions become just about plot, and then it becomes harder for me personally to connect to.
"The problem is you run into a whole series of issues, where show and business run into each other. The network falls in love with characters, the audience falls in love with characters, the press falls in love with characters... You find yourself writing for characters you thought would be gone."
On viewer reaction influencing storylines: "[Because the episodes are filmed long before they air] any feedback by the audience is irrelevant in terms of that. But bigger trends you want to follow."
On the serialized nature of the show: "It's a very flawed way of telling stories on network television right now, because of the advent of the DVR and online streaming."
On focusing more on individual characters/stories: "[I'm] very interested in a more standalone version of Heroes. I think the show needs to move towards that in order to survive."
On changing an angle, such as the use of Claire's regenerating blood: "What often happens on a show like this is you often get boxed in – you set a fuse of something that's just too easy to use. A weapon that's just too sharp. Then you have to blunt it again."
On time travel: "It's a minefield that will make your mind explode. It will just drive you crazy... That device has been one of those that's just been so complicated for us."
On the next volume, Fugitives: "[It's a chance] for us to wipe the table [clean]. What happens when our people have to go underground and go back to being normal after two and a half years of being superheroes?"
What do you think of Kring's answers? Are you as discouraged by his seeming lack of direction as we are?
Matt Richenthal is the Editor in Chief of TV Fanatic. Follow him on Twitter and on Google+.