According to reports, Aimee Teegarden (Julie Taylor) of Friday Night Lights cast, has just been cast on the CW's 90210. The youngster will be portraying "a West Beverly High student who will cross paths with one of the other characters."
The bigger question: As a key component of an uber-talented cast (which already waved goodbye to Scott Porter and Gaius Charles this season), does Aimee's move to 90210 mean the critically acclaimed Friday Night Lights is getting axed?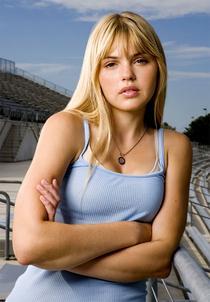 According to NBC, Friday Night Lights will not produce more than 13 episodes for the current third season, and they have just wrapped production on this campaign.
So the long and short of it is that this development does not mean that Friday Night Lights is canceled - necessarily. Yet. For now. As of this posting. But stay tuned.
A decision is expected after Season 3 begins airing on NBC (January 16). If NBC renews it for Season Four, the cast would go back into production in Summer 2009.
Unlike previous years, the actors have been informed there will not be a pickup of more episodes (beyond the original 13) this season, so they have been cleared to work on additional projects, which could explain Aimee's new gig.
Here's hoping that Friday Night Lights indeed returns for a fourth season - and that Aimee's stint on 90210 elevates the acting talent on the fledgling CW teen soap.
Steve Marsi is the Managing Editor of TV Fanatic. Follow him on Google+ or email him here.