The United States of Tara premieres this Sunday on Showtime.
On the pilot, Tara Gregson attempts to live a normal life with her family while suffering from multiple personality disorder.
Sound intriguing? Then take a look at brief summaries for upcoming episodes of the series, which stars Toni Collette:
Episode 1.02 - Aftermath
When Tara feels that she is failing her children, she turns to her perfect homemaker personality for help.
Airs: January 25
Episode 1.03 - Work
A date night with Max turns into a male-bonding session; Charmaine recommends Tara for a large mural project.
Airs: February 1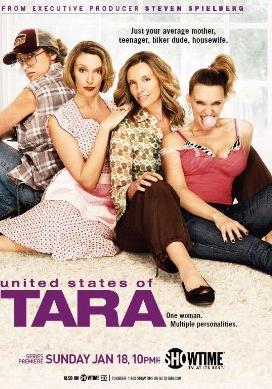 Episode 1.04 - Inspiration
Tara feels better as her mural progresses and she makes a new friend; Tiffany's curiosity leads to a setback.
Airs: February 8
Episode 1.05 - Revolution
Max and Charmaine pursue T when she steals Tara's car; Marshall throws a house party to get closer to his crush.
Airs: February 15
Episode 1.06 - Transition
Tara and Charmaine's parents visit for a birthday, but have a secret agenda.
Airs: February 22



Matt Richenthal is the Editor in Chief of TV Fanatic. Follow him on Twitter and on Google+.