Greg Daniels, the big boss behind NBC's consistently brilliant The Office, recently confirmed what is possibly the best news ever: Amy Ryan will be reprising her spectacularly popular role as Holly Flax, soul mate to Steve Carrel's Michael Scott.
"She will come back," said Daniels to Entertainment Weekly. "We haven't written it yet, but we're discussing her coming back for the season finale. We're hoping she'll be available."
Daniels went on to say that he's "very open" to working out a more permanent Office arrangement with Amy Ryan, whose scheduling conflicts were the reason for her departure.
"Because [Michael Scott and Holly Flax] have such a deep connection, I don't think she can blow in and out every so often," he explains. "It would be too hard for him as a human being. So, we're hoping to find some very significant things for them. And if we can get her to sign on for a really long period, we'll do it."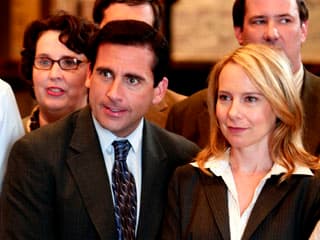 Steve Marsi is the Managing Editor of TV Fanatic. Follow him on Google+ or email him here.